General Industry
Energy and data transmission solutions are required throughout manufacturing facilities and in some institutional buildings, such as schools and museums. The needs can range from simple retractable cord reels to more sophisticated workstation systems.  Spring-driven cable and cord reels provide portable power to assembly areas, trade school shop areas, automotive repair shops, and other maintenance shops.  Ergonomic handling of large tools need a spring assist to manage the weight.  Cable reels or  conductor rails can power various service machines, such as window washing platforms and other utility machines. Mobile maintenance trucks and trailers often require  cable and hose management, as do service providers, such as landscaping companies, electric utilities, and so forth. These types of standard electrification devices are often purchased through electrical/industrial distributors and catalog houses.
Conductix-Wampfler builds high-quality cable and hose reels, lifting/balancing, and control devices to general industry. In France, Italy, Germany, and the United States, we manufacture an array of products made and serviced locally.

Spring-driven Cord and Cable Reels
A complete array of metric cord and  cable reels are made locally in France, Germany, and Italy, as well as American Wire Gauge (AWG) reels made in the United States. Common configurations are available for very quick delivery!
Reels handle from 6 m (about 20 ft) up to 30m (about 100 ft) and more
High-quality  slip ring assemblies to transfer power from the source to the spooled cable.

Spring Balancers – to manage the weight of heavy tools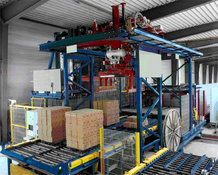 Machine for Prefabricated brick walls
Application
Machine for Prefabricated brick walls

Customer
Trafö

Location
Germany

Travel Distance
45m

Travel Speed
90m/min

Product
Motorized Cable Reel for energy and control circuit supply

Cable
RXP-8 4x16+2x(4x1,5)C mm²
Relevant Products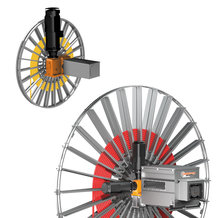 Motor Driven Reels
High Dynamics [HD] Series
Additional information
Sophisticated speed and torque control are ideal for machines with highly dynamic operation.
Highly efficient components and low starting inertia.
Smooth handling of cable increases cable lifetime and overall system reliability.
Optimal corrosion protection even under aggressive conditions - flanges and reel drum are manufactured from hot dip galvanized steel or stainless steel.
Typical applications:
Spreader reels
Ship-to-shore (STS) cranes
Automated stacking cranes
Rail mounted gantry (RMG) cranes
Electric rubber tyred gantry (E-RTG) cranes
Intermodal cranes
Product data
Specifications
Travel speed:
- AC motor with magnetic coupler (MAG drive): up to 180 m/min
- Variable frequency controlled (SMART Drive): up to 300 m/min
Winding length: 700 m max
OD of spool:
- Monospiral spool: 1,100 mm - 8,000 mm
- Single layer drum for spreader reels: 1,200 mm
Gearbox:
- BNA / A3X: 1,100 Nm - 11,000 Nm
- NCR: 2,500 Nm - 11,000 Nm
Slip ring assembly:
- Power low voltage max: 690 V - 1600 A
- Power high voltage max: 24,000 V - 500 A
- Control max: 500 V - 25 A
- Data: fiber optic, mA
Temperature range: -40 °C - +60 °C
Downloads