General Industry
Energy and data transmission solutions are required throughout manufacturing facilities and in some institutional buildings, such as schools and museums. The needs can range from simple retractable cord reels to more sophisticated workstation systems.  Spring-driven cable and cord reels provide portable power to assembly areas, trade school shop areas, automotive repair shops, and other maintenance shops.  Ergonomic handling of large tools need a spring assist to manage the weight.  Cable reels or  conductor rails can power various service machines, such as window washing platforms and other utility machines. Mobile maintenance trucks and trailers often require  cable and hose management, as do service providers, such as landscaping companies, electric utilities, and so forth. These types of standard electrification devices are often purchased through electrical/industrial distributors and catalog houses.
Conductix-Wampfler builds high-quality cable and hose reels, lifting/balancing, and control devices to general industry. In France, Italy, Germany, and the United States, we manufacture an array of products made and serviced locally.

Spring-driven Cord and Cable Reels
A complete array of metric cord and  cable reels are made locally in France, Germany, and Italy, as well as American Wire Gauge (AWG) reels made in the United States. Common configurations are available for very quick delivery!
Reels handle from 6 m (about 20 ft) up to 30m (about 100 ft) and more
High-quality  slip ring assemblies to transfer power from the source to the spooled cable.

Spring Balancers – to manage the weight of heavy tools
Overhead Crane (Conductor Rail 0842)
Application
Overhead Crane (Conductor Rail 0842)

Operator
Trumpf

Customer
Giga spol.s.r.o.

Location
Liberec (CZ)

Product
Conductor Rail, Program 084212-6Lx4x12
Track length
3 rails / 72 m each

Qty. Cranes/rail
2

Specific features
Rail with power feed: platinum gray
Track support bracket: transparent
Relevant Products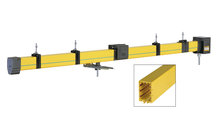 BoxLine 0842

Buy this product online
Additional information
Enclosed multipole conductor rail preferably for straight tracks; indoor or outdoor application.
Special features
Fast economical mounting with clip-on hanger clamps and several connecting options
Available as 4-, 5- and 7-pole system
Safe desing due to covered conductors
Small and compact design
High system flexibility
Main applications
EOT cranes
Building maintenance / window cleaning lifts
Green house application
Workplace systems / tool powering
Product data
Standard application data
Nominal Current (at 100% duty cycle) [A]: 10 | 35 | 60 | 100 | 140
Voltage Grade [V]: 690
Rail Length [mm]: 4.000 [13.12 ft]
External Dimensions [mm]: 56,0 x 90,0 [2.2" x 3.54"]
Operating Conditions: for indoor and outdoor applications
Track Configuration: straight tracks / curved segments on request
Downloads