New Enhancements for the RhinoReel Mill Duty Spring Reel
A revolutionary new mill duty Cable Reel
Our flagship Mill Duty Cable Reel, the RhinoReelTM, which was specifically designed for high-duty cycle material handling cranes, now has even more great benefits. The latest enhancements include:
A flush-mounted torque adjustment screw on the end of each motor, with a side gauge so you can visually check how many pre-tension turns are on each linear coil spring.
An LED indicator on the end of each motor to show if a spring has lost tension for any reason.
Improved internal spring guides.  Our linear spring is safe to handle and is a snap to change out, if you ever need to.  No need to take the reel down from the crane to do the change out – the reel can stay in place during the process.
A major headache in high-volume steel processing operations is the relatively short operating life of traditional spring cable reels - those that manage the cables that power overhead crane below-the-hook devices and transfer cars.  The usual flat-band type coil spring motors break often causing downtime and maintenance cost.  The high cost of downtime, maintenance, replacement springs, spare parts, and spare reels can add up quickly. This type of spring is under constant tension and can be hazardous to handle if removed.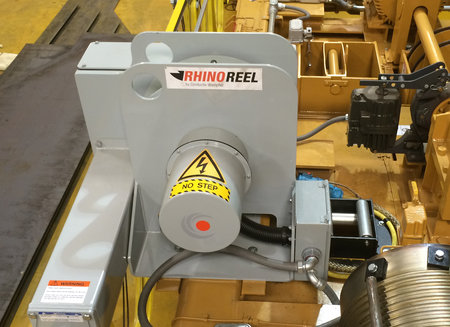 The answer is the RhinoReelTM - a revolutionary new mill duty reel featuring our patented linear spring motor. The RhinoReelTM provides three-times the life of traditional spring reels. This means 67% fewer spring replacements, less downtime, and lower total cost of ownership. The rugged RhinoReelTM, made with heavy plate steel, can handle your demanding reel needs.
Need evidence?  Check out this video that includes a testimonial from a satisfied user:
Click here to see a Full Catalog for the RhinoReel.
Contact us for a quotation:  (+1) 800 521-4888 or (+1) 402-339-9300 customerservice@conductix.com 
Be sure to ask about our Total Cost of Ownership calculator. We can load your exact maintenance data to compare the long-term cost of owning the RhinoReelTM versus other types of reels.