E-RTG
E-RTGTM Container Crane
Application
E-RTGTM Container Crane

Country
Panama

City
Colon

Representative office
Conductix-Wampfler AG [D]

Operator
Manzanillo International Terminal [MIT]

Technical requirement[s]
Electrification of 2 RTG Cranes [E-RTGTM]

Product[s]
Motorized Cable Reel "Sprinter" [ES2050 | monospiral winding ] for energy and data transmission [LWL]
Cable Guide "UV1003P-RTG"
ABB control with Profibus interface
Cable[s]
W-9 6/10 kV 3x35+25/2+12FO(62,5/125µm)

Winding length
300 m

Power feed
Center feed

Mounting height[s]
5 m | Motorized Cable Reel
1,5 m | Cable Guide
Drive Unit
Frequency controlled drive unit of the
Motorized Cable Reel
Control realized with ABB components
with Profibus interface
System course
Straight

Travel distance [Load]
600 m per Block

Travel speed [Load]
135 m/min

Max. Acceleration [Load]
0,28 m/s2

Environmental condition[s]
Container Terminal [sea air]

Additional information
Specially designed Cable Guide for RTGs: UV1003P-RTG


Relevant Products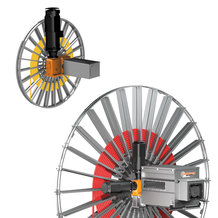 Motor Driven Reels
High Dynamics [HD] Series
Additional information
Sophisticated speed and torque control are ideal for machines with highly dynamic operation.
Highly efficient components and low starting inertia.
Smooth handling of cable increases cable lifetime and overall system reliability.
Optimal corrosion protection even under aggressive conditions - flanges and reel drum are manufactured from hot dip galvanized steel or stainless steel.
Typical applications:
Spreader reels
Ship-to-shore (STS) cranes
Automated stacking cranes
Rail mounted gantry (RMG) cranes
Electric rubber tyred gantry (E-RTG) cranes
Intermodal cranes
Product data
Specifications
Travel speed:
- AC motor with magnetic coupler (MAG drive): up to 180 m/min
- Variable frequency controlled (SMART Drive): up to 300 m/min
Winding length: 700 m max
OD of spool:
- Monospiral spool: 1,100 mm - 8,000 mm
- Single layer drum for spreader reels: 1,200 mm
Gearbox:
- BNA / A3X: 1,100 Nm - 11,000 Nm
- NCR: 2,500 Nm - 11,000 Nm
Slip ring assembly:
- Power low voltage max: 690 V - 1600 A
- Power high voltage max: 24,000 V - 500 A
- Control max: 500 V - 25 A
- Data: fiber optic, mA
Temperature range: -40 °C - +60 °C
Downloads