Electrified Monorail System
Electrified Monorail System
Application
Electrified Monorail System for door transportation [RENAULT plant, Scenic car model]

Country
France

City
Douai

Representative office
Conductix-Wampfler S.A. [F]

Operator
CLEMESSY

Technical requirement[s]
Modification of the EMS doors conveyor due to layout change at the assembly process.

Track length [System]
120 m [on 2 different levels, ground floor and first floor]

Number of carriages
200

Product
Conductor Rail, Program 0815, SingleFlexLine

Additional product information
Connecting boxes for power feed and signals.
Curves radius 1 m delivered bended.

Quantity of poles
6 poles

Power
100 A

Current
400 V

Additonal information
Electrified Monorail System successful in operation since 2002
Layout modification in 2012
Relevant Products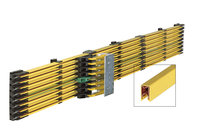 Single FlexLine 0815
Additional information
Single pole conductor rail for curved tracks and circular or oval applications. Preferably for Electrified Monorail Systems (EMS) with limited space.
Special features
Fast mounting with plug and screw connector solution
Compact design for multiple poles in limited space (phase distance 14 or 12 mm)
Easy mounting and flexible combination with 4-, 6-, 8- or 10-pole clip-on rail holders
Rail holder for all common EMS rail systems available
Flexible on-site rail adaptation (bending device)
Power can be fed via every rail connector or end cap
Main applications
EMS (Electrified Monorail Systems)
Circular tracks / Slip rings
Special purpose equipment
Product data
Standard application data
Nominal Current (at 100% duty cycle) [A]: 32 | 100
Voltage Grade [V]: 690
Rail Length [mm]: 4.000 [13.12 ft]
Outside-Dimensions (Pol) [mm]: 9,6 x 15,2 [0.38" x 0.60"]
Operating Conditions: for indoor and weather protected outdoor applications
Track Configuration: straight courses / easy onside rail adaptaion on cource layout
Downloads