Process Crane
Process-Overhead Crane [Crab with claw]
Application
Process-Overhead Crane [Crab with claw]

Country
Slovakia

City
Rohožník - SK

Representative office
Conductix-Wampfler s.r.o.

Operator
HOLCIM SK, a.s.

Technical requirement
Power supply for the claw of the crab

Product [s]
Motorized Cable Reel "Walker"

Cable [s]
4G16+2x4x1,5C

Winding length
19 m

Power feed
End power feed

Mounting heigth
20 m

Drive unit
3-phase motor with magnetic clutch

Power
80 A

Voltage
400 V

System course
Vertical

Track length [System]
20 m

Travel distance [Load]
20 m

Travel speed [Load]
25 m/min

Max. acceleration [Load]
0,3 m/s2

Environmental condition [s]
Garbage dump

Additional information
Motor with thermistor [temperature-dependent thermistor]


Relevant Products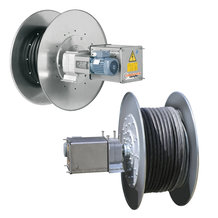 Motor Driven Reels
Compact [C] Series
Additional information
Optimal corrosion protection even in tough environments. Flanges and reel drum are manufactured from hot dip galvanized steel.
Reliable operation with standardized slip ring assembly.
Highly durable, maintenance-free and contactless torque transmission - standard motor with magnetic coupler.
Typical applications:
Gantry cranes
Overhead cranes
Grabs or magnets
Transfer cars
Waste water treatment facilities
Theater stage rigging
Product data
Specifications
Travel speed: up to 100 m/min
Winding length: 200 m max
OD of spool:
- Random wind spool: 400 mm - 1,700 mm
- Monospiral spool or 3-2-3 spool: 1,100 mm - 3,600 mm
Gearbox:
- Type W: 100 Nm - 400 Nm
- Type BNA: 300 Nm - 700 Nm
Slip ring assembly:
- Power max: 690 V – 200 A
- Control & Data max: 500V / 690 V - mA – 25 A
Temperature range: -20 °C - +60 °C
Downloads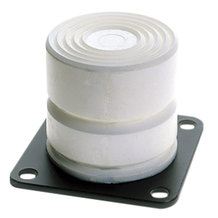 Cellular Bumpers / Buffers

Buy this product online
Additional information
Cellular bumpers / buffers are characterized by high energy absorption with long compression lengths. This results in low final pressures and favorable retardation values. Cellular buffers are made from a cellular Polyurethane Elastomer with high structural resistance. Their principal quality is the volume compressibility, which is responsible for their relatively low transverse expansion during load application. Cellular buffers are resistant to aliphatic hydrocarbons, such as oil and grease, and against ageing. A general resistance can therefore be assumedfor technical applications.
The cellular buffers are not resistant to strong acids and leaches. The operating temperature is between –20°C and +80°C.
Generally special types are only offered and supplied on request. If cellular buffers are mounted over 3 m high they have to be secured by installation of safety ropes.
Material of the cellular body
Standard quality
Cellular Polyurethane Elastomer with volumetric weight 0.53 g/cm³
Special quality
For dynamic load and high elasticity
Special volumetric weight 0.35 g/cm³ (soft) to 0.65 g/cm³ (hard)
Product data
Due to their excellent properties of energy absorption the cellular buffer Programme is a suitable complement to the rubber buffer Programme. Their volume compressibility allows long compression lengths, which allows very good retardation values.
Downloads