Stacker & Reclaimer


Recuperador de un depósito de fertilizante
Aplicación
Recuperador de un depósito de fertilizante

País
Eslovaquia

Ciudad
Šala

Oficina del representante
Conductix-Wampfler s.r.o.
Operador
DUSLO, a.s.

Requisito técnico
Suministro de energía eléctrica principal para un recuperador

Producto/s
Enrollador para cables motorizado "Sprinter" con unidad W-Drive

Cable/s
SX-12 KSM NSHTÖU-J 3x50+3xG25/3 mm2
Longitud de bobinado
95 m

Alimentación eléctrica
Alimentación central

Altura de montaje
2 m

Unidad de accionamiento
Motor trifásico con embrague magnético

Corriente
200 A

Tensión
400 V

Dirección del sistema
Lineal

Longitud del carril (sistema)
95 m

Distancia de trayecto (carga)
190 m

Velocidad de trayecto (carga)
10 m/min

Aceleración máx. (carga)
0,2 m/s2

Condiciones medioambientales
- 20 °C hasta + 40 °C


Relevant Products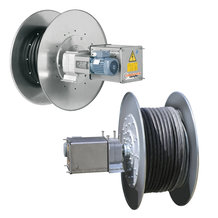 Motor Driven Reels
Compact [C] Series
Additional information
Optimal corrosion protection even in tough environments. Flanges and reel drum are manufactured from hot dip galvanized steel.
Reliable operation with standardized slip ring assembly.
Highly durable, maintenance-free and contactless torque transmission - standard motor with magnetic coupler.
Typical applications:
Gantry cranes
Overhead cranes
Grabs or magnets
Transfer cars
Waste water treatment facilities
Theater stage rigging
Product data
Specifications
Travel speed: up to 100 m/min
Winding length: 200 m max
OD of spool:
- Random wind spool: 400 mm - 1,700 mm
- Monospiral spool or 3-2-3 spool: 1,100 mm - 3,600 mm
Gearbox:
- Type W: 100 Nm - 400 Nm
- Type BNA: 300 Nm - 700 Nm
Slip ring assembly:
- Power max: 690 V – 200 A
- Control & Data max: 500V / 690 V - mA – 25 A
Temperature range: -20 °C - +60 °C
Downloads