STS Container Crane
The largest existing container handling equipment and also one of the largest types of cranes build in higher quantities are modern Ship-to-Shore Cranes (STS). Located directly on the waterside of container terminals they form the critical interface between the ships and the landside container handling facility.
Design and size of this crane type has change dramatically since the introduction of shipping containers 1954. To service ships of 14.000 TEU and more the STS cranes had to become of enormous size and at the same time highly efficient and reliable. In the past STS cranes had to service only a few ships per week where today fully specialized and highly automated facilities operate 24/7/365.
Due to the increased size of the cranes the demand on speed and acceleration has increased significantly. Durability, ease of maintenance but also lifetime costs have become critical aspects for energy and data transmission solutions for STS cranes.
Conductix-Wampfler offers the full range of solutions for all types of STS cranes, regardless of special terminal preferences or special climatic requirements (high wind, ice and snow, tropical climates, ...). 
Conductix-Wampfler has decades of experience and know-how in the container handling industry. We offer reliable, practical, and customized solutions for the electrification of STS cranes and other port machinery. Our customers' global activities are supported with our turnkey systems and strong after-sales service from our worldwide sales and engineering network.
We offer:
Motor-Driven Cable Reels – customized, with magnetic or variable frequency drives to manage long travel main power supply and horizontal lift for spreader applications. Continuous energy and data transmission is guaranteed by special medium voltage and control slip ring assemblies as well as rotary fiber optic transmitters.
Cable Festoon Systems – durable and reliable; motorized or non-motorized to manage trolley-travel power and data cables on container cranes.
Energy Guiding Chains – durable and efficient management of power, control and data cables for crane trolley-travel and lashing platforms.
Conductor Rail Systems – Conductor rails provide power and control for crane trolley-travel in combination with dedicated data transfer systems. Trench-mounted medium voltage conductor rail systems provide power for STS container crane long travel. High amperage conductor rail systems are an alternative to cable reels for STS container cranes.
Cable Protection Systems – Trenchguard and CoverZip systems cover and protect cables in trenches along the STS crane rail.
ProfiDAT® Data Transmission System for a STS Container Crane
Application
STS Container Crane, Data Transmission Retrofit ProfiDAT® and Conductor Rail System, Program 0813 in Nanshan Container Terminal [NCT]

Country
China

City
Guangzhou

Representative office
Conductix-Wampfler [CN]

Operator
Nanshan Container Terminal [NCT]

Technical requirement[s]
Transform Memobus from Yaskawa to TCP-IP [Ethernet]

Length [System]
132 m

System course
Linear

Travel distance [Load]
110 m

Travel speed [Load]
Max. 240 m/min

Product[s]
• ProfiDAT®, Program 0514
• Conductor Rail, Program 0813 SinglePowerLine

Additonal product information
Yaskawa Module CP316H+218IFB

Number of poles
6+1 ProfiDAT®

Collector
3 PH + N + 2 Emergency Stop

Current
500 A

Voltage
• Main Power: 380 V
• Control: 220 V

Environmental condition[s]
Container terminal [sea air]
Relevant Products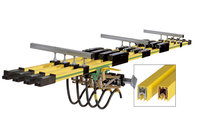 Single PowerLine 0813
Additional information
Single pole conductor rail preferably for straight tracks
Special features
Available with different rail materials, suitable for most industrial environments
High safety level due to integrated finger-safe design
Easy and exact mountig with multiple hanger clamps for 3, 4 and 5 poles
Unlimited number of poles, designed for complex systems
Curved segments available
Main applications
Process and EOT cranes
People movers
Container cranes
Product data
Standard application data
Nominal Current (at 100% duty cycle) [A]: 500 | 800 | 1.000 | 1.250
Voltage Grade [V]: 690
Rail Length [mm]: 5.000 [16.40 ft]
External Dimensions (Pole) [mm]: 32,0 x 42,0 [1.26" x 1.65"]
Operating Conditions: for indoor and weather-protected outdoor applications
Track Configuration: preferably for straight tracks / curved segments available
Downloads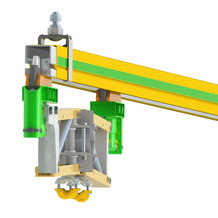 ProfiDAT®
Additional information
ProfiDAT® is a contactless data transfer solution for communication between fixed and mobile control units from Conductix-Wampfler. ProfiDAT® makes it possible to achieve reliable transfer of mixed data (video, audio and real-time control) at very high data rates using Conductix-Wampfler slotted waveguide technology. Data can be safely transferred at rates up to 100 Mbit/s with average latency of only 3ms. The unique configuration of waveguide and mobile antennas results in a system with integrated shielding. This isolation means that ProfiDAT® is license free and can safely transfer data, even in the most challenging radio environments (e.g. shipping container terminals).
ProfiDAT® is excellently suited for integration into conductor rail systems because the waveguide profile has been engineered for dual use as the protective earth (PE) conductor rail. This results in a very compact complete system because an additional PE conductor rail is not required. The ProfiDAT® data transfer system can be combined with multiple available Conductix-Wampfler conductor rail systems.
Main Applications
STS Crane (Ship-to-Shore)
RTG/E-RTGTM Crane (Rubber-Tired Gantries/ Electrified Rubber-Tired Gantries)
Process Crane
Key Features
Safe and reliable wireless communication using slotted waveguide technology
Real-time data transfer through prioritization of PROFINET data packets
PROFIsafe compatible
Solutions for expansion joints and separation points
Cost saving through dual use of ProfiDAT® as communication channel and protective earth (PE) conductor rail
Compact and fully integrable into conductor rail systems
Product data
Standard Application Data
Data rate [Mbit/s]:up to 100
Real-time capable: Yes (PROFINET)
Average latency [ms]: 3
Maximum distance (without repeater) [m]: 500
Safe communication: Yes (PROFIsafe)
Dual use as protective earth (PE): Yes
Multiple mobile units in one profile possible: Yes
Profile section length [mm]: 5.000
External dimensions (profile) [mm]: 50 x 56
Suitable for indoor and outdoor applications: Yes
Temperature range [°C]: -25 bis +50
Downloads