STS Container Crane
The largest existing container handling equipment and also one of the largest types of cranes build in higher quantities are modern Ship-to-Shore Cranes (STS). Located directly on the waterside of container terminals they form the critical interface between the ships and the landside container handling facility.
Design and size of this crane type has change dramatically since the introduction of shipping containers 1954. To service ships of 14.000 TEU and more the STS cranes had to become of enormous size and at the same time highly efficient and reliable. In the past STS cranes had to service only a few ships per week where today fully specialized and highly automated facilities operate 24/7/365.
Due to the increased size of the cranes the demand on speed and acceleration has increased significantly. Durability, ease of maintenance but also lifetime costs have become critical aspects for energy and data transmission solutions for STS cranes.
Conductix-Wampfler offers the full range of solutions for all types of STS cranes, regardless of special terminal preferences or special climatic requirements (high wind, ice and snow, tropical climates, ...). 
Conductix-Wampfler has decades of experience and know-how in the container handling industry. We offer reliable, practical, and customized solutions for the electrification of STS cranes and other port machinery. Our customers' global activities are supported with our turnkey systems and strong after-sales service from our worldwide sales and engineering network.
We offer:
Motor-Driven Cable Reels – customized, with magnetic or variable frequency drives to manage long travel main power supply and horizontal lift for spreader applications. Continuous energy and data transmission is guaranteed by special medium voltage and control slip ring assemblies as well as rotary fiber optic transmitters.
Cable Festoon Systems – durable and reliable; motorized or non-motorized to manage trolley-travel power and data cables on container cranes.
Energy Guiding Chains – durable and efficient management of power, control and data cables for crane trolley-travel and lashing platforms.
Conductor Rail Systems – Conductor rails provide power and control for crane trolley-travel in combination with dedicated data transfer systems. Trench-mounted medium voltage conductor rail systems provide power for STS container crane long travel. High amperage conductor rail systems are an alternative to cable reels for STS container cranes.
Cable Protection Systems – Trenchguard and CoverZip systems cover and protect cables in trenches along the STS crane rail.
Main power supply for 6 STS Container Cranes (ship to shore)
Application
Main power supply for 6 STSContainer Cranes

Operator
P&O Antwerpen (Belgium)

Customer
TES – Oosterhout (NL)

Ambient conditions
Harbor/ Sea climate

Product
Motorized Cable Reel Sprinter

Track length
900 m (Winding length 450 m)

Travel Speed
50 m/min

Height
21,5 m

Cable
Protolon SMK 8,7/15 kV 3x35 + 3x25/2 mm2

Specific features
Frequency control drive

Relevant Products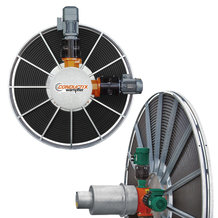 Motor Driven Reels
Heavy Load [HL] Series
Additional information
Modular assembly system - the cable reel can be upgraded after installation by adding drive units.
Magnetic Coupler Drive (MAG Drive) or Variable Frequency Drive (SMART Drive)
5 year or 15,000 hour operation before any maintenance is required - gearboxes are grease-lubricated from the factory.
Optimal corrosion protection to handle aggressive environments - flanges and reel drum are manufactured from hot dip galvanized steel or stainless steel.
Typical applications:
Ship-to-shore (STS) cranes
Rail mounted gantry (RMG) cranes
Ship unloaders
Stackers / reclaimers
Shipbuilding cranes
Product data
Specifications
Travel speed:
- AC motor with magnetic coupler (MAG drive): up to 100 m/min
- Variable frequency controlled (SMART Drive): up to 180 m/min
Winding length: 700 m max
OD of spool:
- Monospiral spool: 1,100 mm - 8,000 mm
- 3-2-3 spool: 1,100 mm - 8,000 mm
Gearbox:
- Type BNA: 1,100 Nm - 19,000 Nm
- Type X07: 1,100 Nm - 11,000 Nm
Slip ring assembly:
- Power low voltage max: 690 V - 1,600 A
- Power high voltage max: 24,000 V - 500 A
- Control max: 500 V - 25 A
- Data: fiber optic, mA
Temperature range: -40 °C - +60 °C
Downloads