Transfer Car
Transfer cars / Concrete factory
Application
Transfer cars in a concrete factory

Country
Czech Republic

City
Dolní Bučice

Representative office
Conductix-Wampfler s.r.o.
Operator
GOLDBECK Prefabeton s.r.o

Technical requirement[s]
Energy transmission to transfer cars

Product[s]
Motorized Cable Reels
Closed Roller Dies
Cable Guides
Cable Mesh Grips
Cable[s]
Winding length
68 m/each

Winding type
Random winding

Drive Unit[s]
Standard motors with magnetic clutch

Gear Unit[s]
Spur gear units

Duty cycles per day
25

Mounting height[s]
2 m

System course
straight

Travel distance [Load]
each 55 m

Travel speed [Load]
20 m/min

Max. Acceleration [Load]
0,2 m/s2


Relevant Products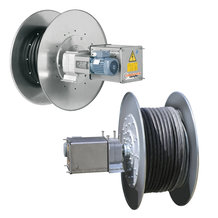 Motor Driven Reels
Compact [C] Series
Additional information
Optimal corrosion protection even in tough environments. Flanges and reel drum are manufactured from hot dip galvanized steel.
Reliable operation with standardized slip ring assembly.
Highly durable, maintenance-free and contactless torque transmission - standard motor with magnetic coupler.
Typical applications:
Gantry cranes
Overhead cranes
Grabs or magnets
Transfer cars
Waste water treatment facilities
Theater stage rigging
Product data
Specifications
Travel speed: up to 100 m/min
Winding length: 200 m max
OD of spool:
- Random wind spool: 400 mm - 1,700 mm
- Monospiral spool or 3-2-3 spool: 1,100 mm - 3,600 mm
Gearbox:
- Type W: 100 Nm - 400 Nm
- Type BNA: 300 Nm - 700 Nm
Slip ring assembly:
- Power max: 690 V – 200 A
- Control & Data max: 500V / 690 V - mA – 25 A
Temperature range: -20 °C - +60 °C
Downloads