Amusement Rides
Although amusement park visitors are likely unaware, many of the rides they enjoy are powered by electrification systems mounted on or near the moving parts. Rugged and reliable electrification systems are needed to keep rides such as Ferris wheels, carousels, dark rides, free-fall towers, and the latest thrill rides running continuously. Electric components must operate with high degree of safety, whether inside or outside, or even run underwater. At the same time, ride manufacturers and park owners don't want systems that will detract from the ride's aesthetics. For economic reasons, as well as safety concerns, amusement park operators can not afford to have their rides go down!
Conductix-Wampfler offers decades of expertise working closely with major amusement parks and ride builders all over the globe. Our highly reliable electrification solutions have been proven in the world's busiest amusement parks. Our broad portfolio of products allows us to meet the ride operator's unique needs and technical requirements, all with the maximum degree of safety in mind. Whether a standard product or customized solution, our recommendation will be the right one without bias towards one system over another.
Our rugged product lines for amusement rides include:
Conductor Rails – to power linear and curved rides.  Conductor rails can be formed into larger radius slip ring assemblies. Robust,  high-current rails are available for  people movers and scenic rides.
Slip Ring Assemblies – with or without enclosures, transmit power and data to the rotating parts of all types of circular rides and in variety of operating conditions. We also offer  fiber optic rotary joints for more complex systems.
Inductive Power Transfer (IPT®) – transmits of power and data without direct contact.  IPT® is ideal for "wet rides" where traditional conductors won't work and can be found at major theme parks around the world.
Energy Guiding Chains – for linear or circular rides that operate with  cables or hoses,  energy chains are the ideal solution.

Spring-Driven Cable Reels – to manage vertical  cables that power and control movable stage lighting, sound systems, and video.
Jay Radio Remote Controls –  offer a safe way of operating or monitoring machines from a distance. The comprehensive range of industrial and safety radio remote controls offers countless solutions to adapt to an extensive number of amusement ride applications.
Powered Inverted Coaster [ Turbo Glider ]
Application
Powered Inverted Coaster [Turbo Glider]

Country
Germany

City
Minden

Representative office
Conductix-Wampfler AG [CH]

Operator
Potts

Customer
ABC Engineering AG [CH]

Technical requirement[s]
Power Supply for the family coaster

Product[s]
Conductor Rail, Program 0812 SinglePowerLine; 320 A Aluminium Rail

Number of [Load]
6

System course
Several horizontal curves and max. incline of 17%

Travel distance [Load]
450 m

Travel speed [Load]
Max. 8 m/s

Number of poles
6 + PE

Collector assembly
Double collector

Current
90 A


Relevant Products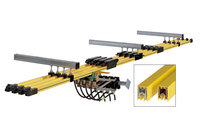 Single PowerLine 0812

Buy this product online
Additional information
Single pole conductor rail preferably for straight tracks.
Special features
Available with different rail materials, suitable for most industrial environments
High safety level due to integrated finger-safe design
Easy and exact mountig with multiple hanger clamps for 3, 4 and 5 poles
Unlimited number of poles, designed for complex systems
On-site bending with optional bending device for curves possible
Main applications
EOT cranes
People Movers
Special purpose equipment
Product data
Standard application data
Nominal Current (at 100% duty cycle) [A]: 25 | 200 | 250 | 320 | 400
Voltage Grade [V]: 690 (hand safe array 500 V)
Rail Length [mm]: 4.000 [13.1 ft]
External Dimensions (Pole) [mm]: 18,0 x 26,0 [0.71" x 1.02"]
Operating Conditions: for indoor and weather-protected outdoor applications
Track Configuration: straight / curved elements available
Downloads