Cranes
Lifting and moving of goods is part of almost every production, assembly, or  logistic process. Depending on the size and weight of goods and materials, machines for lifting can be designed very differently. However, they all have vertical and horizontal movements in common. Next to floor mounted transportation and lifting equipment, cranes are the most used material handling equipment for this task. From simple hoists on fixed or swiveling beams, to overhead cranes, to fully automated and dedicated process cranes, the range of crane types is as wide as the kinds of goods that are handled by them – all over the world, every day. Energy and data transmission systems play a crucial role in the safe, reliable, and efficient operation of all types of cranes. Due to the different designs and functionalities of cranes, power supply and data transmission systems need to be very dedicated to fit the exact requirements. Also, the wide range of different environments where cranes operate, such as factories, steel mills, aluminum smelters, scrape cranes, timber mills, and waste-to-energy (WCR) puts very high and specialized demands on energy and data transmission systems.
Conductix-Wampfler is the worldwide leader in electrifying cranes. We offer standardized solutions for all types of cranes and can handle customized needs as well. Conductix-Wampfler offers a large network of Sales and Engineering facilities close to our customers. Local stocks and short lead times on standardized items guarantee the highest possible level of support for our customers.
Conductor Rails – for the runway travel of factory cranes, single pole insulated,  multi pole or  enclosed conductor rail systems have proven to be the most reliable and cost-effective solution. Cross travel on cranes can be handled with  conductor bars as well, using dedicated data transfer systems
Cable Festoon Systems – cross travel on cranes can be equipped with traditional but extremely reliable and durable  festoon systems (motor-driven or none motor-driven)
Energy Guiding Chain – can also manage  cables for the cross travel on cranes as well as for cranes with extendable booms.
Spring-Driven or  Motor-Driven Cable Reels – can manage  cables used in vertical lift applications.
Slip Rings – pass power and control to the moving part of cranes that rotate 360 degrees.
Rubber or Cellular Bumpers – cushion the direct part-to-part impacts of crane elements.
Jay Radio Remote Controls –  offer a safe way of operating or monitoring machines from a distance. The comprehensive range of industrial and safety radio remote controls offers countless solutions to adapt to an extensive number of crane applications.
Power supply for an EOT Crane
Application
Power supply for an EOT Crane

Customer
ITECO s.r.o.

City
Třinec, Czech Republic

Representative office
Conductix-Wampfler s.r.o. [CZ]
Technical requirement[s]
Power supply for the vacuum lifter [special construction]

Product[s]
Spring Cable Reel, BEF 183616-4512-1FD(T)/L

Cable[s]
PUR(NSHTOU)/SW 12x1,5 mm2

Winding Length
6 m

Travel speed [Load]
Bridge: 40 m/min
Crab carriage20 m/min
Crab lift: 5 m/min
Environmental condition[s]
Inside, factory building

Additional information
The main power supply for the crane [89 m] was realized with the Conductix-Wampfler Conductor Rail System "BoxLine" | Program 0842
The power supply for the crab was realized with the Conductix-Wampfler Festoon System "Program 0230"
Relevant Products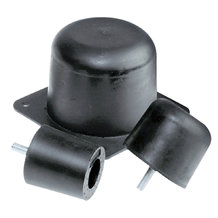 Rubber Buffers / Bumpers

Buy this product online
Additional information
Natural caoutchouc rubbers are characterised by their very high elasticity and tensile strength. Other qualities are their notch impact resistance and good abrasive resistance. Among all Elastomers these have the highest mechanical and dynamic load capacities. Natural caoutchouc is not resistant to electrolytic liquids, aliphatic, aromatic and chlorinated hydrocarbons.
Oil and natural gas are the basic materials for synthetic caoutchouc. For many years this has been a substitute material for natural caoutchouc, but today this synthetic caoutchouc is used increasingly as first choice for many applications. Today there are a wide range of synthetic caoutchoucs, whose properties allow a variety of applications thereby, establishing the use of rubber technology within modern methods.
Moreover, rubber is not merely a chemical substance, but a compound of many different materials. The varied mechanical and anti-corrosive properties can only be achieved by a recipe of several hundred substances. Caoutchouc as a macromolecular material provides the elastic components of the rubber. The mechanical properties, such as breaking elongation, resilience elasticity, strength and continuous breaking strength are dependent on it. The addition of chemicals and other additives and the subsequent vulcanization process make the material useful.
The multitude of additive combinations as well as the many physical forms means that for most problems there is a solution.
Product data
Since the rubber buffers are built of a cost effective basic material, our Programme offers an economic solution for most technical requirements. The energy absorption of rubber buffers is limited due to their incompressible material.
Downloads