General Industry
Energy and data transmission solutions are required throughout manufacturing facilities and in some institutional buildings, such as schools and museums. The needs can range from simple retractable cord reels to more sophisticated workstation systems.  Spring-driven cable and cord reels provide portable power to assembly areas, trade school shop areas, automotive repair shops, and other maintenance shops.  Ergonomic handling of large tools need a spring assist to manage the weight.  Cable reels or  conductor rails can power various service machines, such as window washing platforms and other utility machines. Mobile maintenance trucks and trailers often require  cable and hose management, as do service providers, such as landscaping companies, electric utilities, and so forth. These types of standard electrification devices are often purchased through electrical/industrial distributors and catalog houses.
Conductix-Wampfler builds high-quality cable and hose reels, lifting/balancing, and control devices to general industry. In France, Italy, Germany, and the United States, we manufacture an array of products made and serviced locally.

Spring-driven Cord and Cable Reels
A complete array of metric cord and  cable reels are made locally in France, Germany, and Italy, as well as American Wire Gauge (AWG) reels made in the United States. Common configurations are available for very quick delivery!
Reels handle from 6 m (about 20 ft) up to 30m (about 100 ft) and more
High-quality  slip ring assemblies to transfer power from the source to the spooled cable.

Spring Balancers – to manage the weight of heavy tools
Jay Radio Remote Controls –  offer a safe way of operating or monitoring machines from a distance. The comprehensive range of industrial and safety radio remote controls offers countless solutions to adapt to an extensive number of industrial applications.
Mobile Scraper with grabber in a hydroelectric power plant
Application
Mobile Scraper with grabber in a hydroelectric power plant
Country
Czech Republic
City
Obřístvi
Representative office
Conductix-Wampfler s.r.o. [CZ]
Operator
ČEZ MVE Obříství
Technical requirement[s]
Energy supply and control for Mobile Scraper with grabber crane
System course
Linear
Travel distance [Load]
50 m
Product[s]
Motorized Cable Reel, Program 7100
Cable[s]
4G16 + 10x1,0 mm2
Winding length
25 m
Power Feed
Centre feed
Relevant Products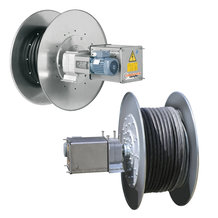 Motor Driven Reels
Compact [C] Series
Additional information
Optimal corrosion protection even in tough environments. Flanges and reel drum are manufactured from hot dip galvanized steel.
Reliable operation with standardized slip ring assembly.
Highly durable, maintenance-free and contactless torque transmission - standard motor with magnetic coupler.
Typical applications:
Gantry cranes
Overhead cranes
Grabs or magnets
Transfer cars
Waste water treatment facilities
Theater stage rigging
Product data
Specifications
Travel speed: up to 100 m/min
Winding length: 200 m max
OD of spool:
- Random wind spool: 400 mm - 1,700 mm
- Monospiral spool or 3-2-3 spool: 1,100 mm - 3,600 mm
Gearbox:
- Type W: 100 Nm - 400 Nm
- Type BNA: 300 Nm - 700 Nm
Slip ring assembly:
- Power max: 690 V – 200 A
- Control & Data max: 500V / 690 V - mA – 25 A
Temperature range: -20 °C - +60 °C
Downloads