General Industry
Energy and data transmission solutions are required throughout manufacturing facilities and in some institutional buildings, such as schools and museums. The needs can range from simple retractable cord reels to more sophisticated workstation systems.  Spring-driven cable and cord reels provide portable power to assembly areas, trade school shop areas, automotive repair shops, and other maintenance shops.  Ergonomic handling of large tools need a spring assist to manage the weight.  Cable reels or  conductor rails can power various service machines, such as window washing platforms and other utility machines. Mobile maintenance trucks and trailers often require  cable and hose management, as do service providers, such as landscaping companies, electric utilities, and so forth. These types of standard electrification devices are often purchased through electrical/industrial distributors and catalog houses.
Conductix-Wampfler builds high-quality cable and hose reels, lifting/balancing, and control devices to general industry. In France, Italy, Germany, and the United States, we manufacture an array of products made and serviced locally.

Spring-driven Cord and Cable Reels
A complete array of metric cord and  cable reels are made locally in France, Germany, and Italy, as well as American Wire Gauge (AWG) reels made in the United States. Common configurations are available for very quick delivery!
Reels handle from 6 m (about 20 ft) up to 30m (about 100 ft) and more
High-quality  slip ring assemblies to transfer power from the source to the spooled cable.

Spring Balancers – to manage the weight of heavy tools
Jay Radio Remote Controls –  offer a safe way of operating or monitoring machines from a distance. The comprehensive range of industrial and safety radio remote controls offers countless solutions to adapt to an extensive number of industrial applications.
Parking system in an office building
Application
Parking system in an office building

Country
Czech Republic

City
Chrudim

Representative office
Conductix-Wampfler s.r.o.

Operator
Office building - OC Balustrá da Chrudim [K2 Investiční]

Technical requirement[s]
Power transmission for the high-rack transport vehicles for the transport of passenger cars

Product[s]
Conductor Rail System, Program 0831 MultiLine
Collector
Double collector assembly

System course
Straight

Length [System]
3 x 40 m

Number of poles
2 + PE

Current
15 A

Voltage
400 V

Additional information
Frequency converter drives
Relevant Products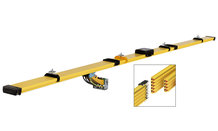 MultiLine 0831
Additional information
Multipole compact conductor rail for straight tracks in indoor applications.
Special features
Fast and economical mounting through multipole design, clamp hangers and plug-in connector technology
Free combination of 3-, 4- and 5-pole units
High safety level and optimized mechanical characteristics through joint insulation profile
Compact design with optimum distance between the poles
Easy maintenance – rail segments can be easily cleaned and replaced
Main applications
High Storage Systems (AS/RS)
Process and production cranes
Customized solutions and special purpose equipment
Product data
Standard application data
Nominal Current (at 100% duty cycle) [A]: 10 | 32 | 60 | 100 | 125
Voltage Grade [V]: 690 (Hand safe array 500 V)
Rail Length [mm]: 4.000 [16.40 ft]
External Dimensions [mm]: 3-pole: 26,0 x 62 [1.02" x 2.44"]; 4-pole: 26,0 x 80,0 [1.02" x 3.15"]; 5-pole: 26,0 x 98,0 [1.02" x 3.86"]
Operating Conditions: for indoor and weather-protected outdoor applications
Track Configuration: straight tracks
Downloads