Metallurgy
Global economic expansion has greatly increased the demand for iron, steel, aluminum, and copper. Scrap handling facilities, steel plants, rolling mills, aluminum smelters, and electrowinning operations require rugged material handling machines that place high demands on energy and data transmission systems. Reliability is of paramount importance, as any unscheduled downtime will cause waste and lost productivity. Electric systems must withstand high heat, sparks, metal splatter and conductive dust.  Aluminum pot line cranes need  conductor systems that can handle high currents during the stationary operating cycle. In steel mills, mission-critical charging and ladle handling  cranes must operate where furnaces and molten steel ambient heat often exceeds 70°C. To survive,  cables need special heat shielding and  conductor rails often require high-heat insulation. Bar, billet and coil handling  cranes operate at high speeds and must position and turn loads accurately. Lastly, the environment around electrowinning and plating lines will corrode ordinary electrification components.
Conductix-Wampfler products are used in metals facilities all over the world. We understand metallurgical processes from raw material supply, to metal making, to final finishing. With our global sales and service network, we are always close to your business for local service and support. If you need on-site installation assistance or a complete turnkey-job, there is no more experienced partner than Conductix-Wampfler.
Our products for metal plants include:
Conductor Rails – provide runway power for Charging Cranes, Ladle, and Tundish Cranes, slab/billet cranes, and coil/bar/plate handling cranes.  Insulated bars are used up to 1500 amp;  Welded Cap Rail for 2500 to 6000 amps. They power  cranes in corrosive sintering, plating, and electrowinning operations, with optional Dura-Coat protection and supply continuous current draw for aluminum pot line  cranes that operate while stationary.
Cable Festoon Systems – reliable  cable handling for bridge power to all  process and handling cranes with straight or curved runs. Our optionally pre-assembled systems minimize installation time.
Motor-Driven Reels – are low maintenance and manage  cables and hoses for transfer cars, dependably.
Spring-Driven Reels – provide power for  scrap crane magnets and other uses.
Energy Guiding Chains – manage  cables and hoses for various types of moving equipment.
Slip Ring Assemblies – with rugged enclosures, transfer power and control signal to rotating ladle turrets on continuous casters or provide rotating control/power for pot line cranes.
Jay Radio Remote Controls –  offer a safe way of operating or monitoring machines from a distance. The comprehensive range of industrial and safety radio remote controls offers countless solutions to adapt to an extensive number of metallurgy applications.
Mobile Manipulator in a smithy
Application
Mobile Manipulator in a smithy

Country
Czech Republic

City
Hradec Králové

Representative office
Conductix-Wampfler s.r.o.
Operator
ZVU Kovárna, a.s. [CZ]

Technical requirement
Main power supply for the Manipulator

Product [s]
Motorized Cable Reel "Sprinter"
Guide roller type: UR801
Cable [s]
RXP-8 4G25 mm2
Winding length
21 m

Mounting height
Reel [axle]: 1 m
Guide roller [axle]: 3 m
Drive unit
3-phase motor with magnetic clutch

Power
125 A

Voltage
400 V

System course
Variable

Environmental condition [s]
- 20 °C up to + 40 °C

Additional information [s]
fixed drum with rotary guide roller
max. winding speed of 100 m/min
free sag of the cable
Relevant Products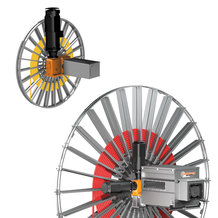 Motor Driven Reels
High Dynamics [HD] Series
Additional information
Sophisticated speed and torque control are ideal for machines with highly dynamic operation.
Highly efficient components and low starting inertia.
Smooth handling of cable increases cable lifetime and overall system reliability.
Optimal corrosion protection even under aggressive conditions - flanges and reel drum are manufactured from hot dip galvanized steel or stainless steel.
Typical applications:
Spreader reels
Ship-to-shore (STS) cranes
Automated stacking cranes
Rail mounted gantry (RMG) cranes
Electric rubber tyred gantry (E-RTG) cranes
Intermodal cranes
Product data
Specifications
Travel speed:
- AC motor with magnetic coupler (MAG drive): up to 180 m/min
- Variable frequency controlled (SMART Drive): up to 300 m/min
Winding length: 700 m max
OD of spool:
- Monospiral spool: 1,100 mm - 8,000 mm
- Single layer drum for spreader reels: 1,200 mm
Gearbox:
- BNA / A3X: 1,100 Nm - 11,000 Nm
- NCR: 2,500 Nm - 11,000 Nm
Slip ring assembly:
- Power low voltage max: 690 V - 1600 A
- Power high voltage max: 24,000 V - 500 A
- Control max: 500 V - 25 A
- Data: fiber optic, mA
Temperature range: -40 °C - +60 °C
Downloads