Conductix-Wampfler USA Expands Omaha Plant and Office Space
Additional capacity for new product lines made in Omaha
Conductix-Wampfler USA recently purchased a second plant building which has added nearly 50 percent its Omaha, NE production space.  The additional capacity was needed for new product lines made in Omaha, such as specialized cable reels made for the mining industry, as well as to handle the division's double-digit sales growth.  The sales and administrative offices in Omaha are being expanded and remodeled as well.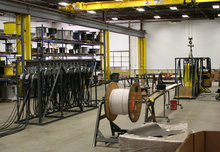 In early 2011, cumulative increases in the demand for large motor driven reels and I-beam festoon systems lead the Omaha Production Team to lease a 27,000 square foot manufacturing facility on Giles Road.  To eliminate the need for this leased space, a 35,000 square foot building was purchased in late 2011 at 4202 South 102 Street, just west of the main building at 10102 F street.  The facility, formerly owned by New Steel, Inc., sits on three acres of land next to a rail siding.  Immediately following the purchase, the Team prepared the new building and moved the motor driven reel and I-beam festoon production. Shortly after that, mining reel production, metal fabrication, and the weld shop were also relocated.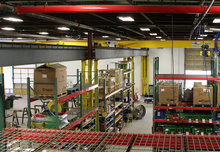 "We were very pleased to maintain a 95% on-time shipment record during the relocations", said Dave Douglas, General Manager of Omaha Production.  "Our associates did a great job of moving production while keeping focused on customer requirements."  Douglas further explained, "The new building is very well set up for us, with three dock doors and an 85 foot long truck pit to unload materials and ship very large reel and festoon systems.  Our four crane bays there will be set up to handle 10 tons each.
Manufacturing space in Omaha now totals nearly 70,000 square feet.  Lon Miller, President of Conductix-Wampfler USA added, "We are pleased to see the additional space come on line.  The expansion puts us in a great position to continue the high level of service that customers of Omaha-built products have come to expect now and in the immediate future."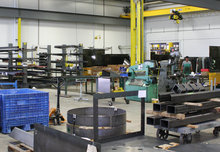 With the additional production space now on line, the Omaha headquarters at 10102 F Street is being expanded and remodeled as well.  Work has started on a 10,000 square foot addition.  Mr. Miller stated that, "Our objective is to eliminate the need for some leased office space and to accommodate our future growth".  5,000 square feet of production space at the original 10102 F Street plant building is being used to accommodate the two-story office addition.  Work on the offices should be complete by October of 2012.