Conductix-Wampfler Selected to Supply Power Rail for Phoenix Sky Train Project (Phoenix Sky Harbor International Airport)
Conductix-Wampfler USA – the leading power rail solution provider
If you have ever passed through a US airport in the last 10 years, you have very likely ridden on an Automated People Mover (APM) system that runs on power rail provided by Conductix-Wampfler's USA Transit Team.We are the leading power rail solution provider in the APM market segment.
The distinction between "light metro" transit systems and "heavy metro" systems may not be well understood by most. According to the ASCE APM Standards Group, an Automated People Mover is defined as "a guided transit mode with fully automated (driverless) operation, featuring vehicles that operate on guideways with exclusive right-of-way." The majority of APM's today obtain power for their traction motors, lighting, heating and air conditioning from power rails. Many APM's serve airports and are expected to operate 18 to 24 hours a day, 365 days a year. Consequently, all parts of the system must be highly reliable. To maintain the highest safety and efficiency, APMs are monitored and controlled from a central command center.
Through close coordination with a variety of vehicle suppliers, systems integrators and consultants, Conductix-Wampfler has supplied reliable, efficient and cost-effective power rail systems for APMs for over 50 years. Our partners in APMs include Bombardier, Mitsubishi, Schwager-Davis, Doppelmayr, and SNC-Lavalin.
As the leading provider of APM systems, Bombardier won the bid to supply the vehicles, as well as a 10-year Operations and Maintenance contract, for the Phoenix Sky Harbor International Airport's Sky Train system. Based on Conductix-Wampfler's relationship with Bombardier, our proven performance, and our competitive price, we were selected to supply the power rail for the Sky Train system.
The $1.5 billion Sky Train system will be constructed in several phases. The first 3.5 km phase, Terminal 4 to the 44th street METRO station, broke ground in March of 2009 and is expected to begin operations in April of 2013. Approximately 6,000 people were employed to build the first phase and about 2,000 will be working on the second phase (Terminal 3 to Terminal 4.) An additional construction phase, not yet designed, will connect Terminal 3 to the rental car facility by 2020.
Bombardier is supplying their Innovia 200 family of trains for the Sky Train system. There will be a total of 18 cars, assembled into 2 and 3 car trains. Each car has a 54 person capacity and will travel up to 37 mph. The system will provide 24 hour service to airport travelers.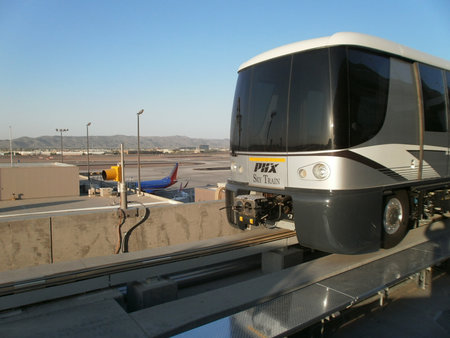 For the project to date, Conductix-Wampfler, Harlan, IA supplied over 22 miles of 1200 amp aluminum and stainless rail, specifically designed to meet the requirements of the Bombardier Innovia vehicles. "Conductix-Wampfler has been a valuable supplier to Bombardier for this project," said Bombardier Sky Train project manager, Rob Decostro. "The Conductix-Wampfler power rail we are installing for the Phoenix project has been used in other Bombardier installations and has proven to be a reliable system for us."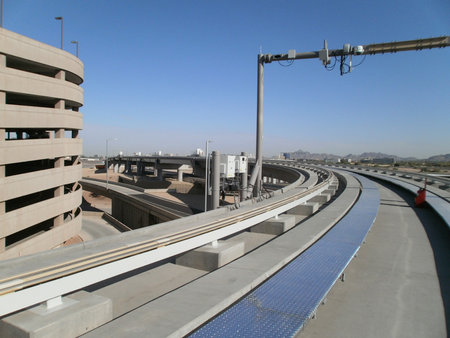 The Phoenix Sky Train system will be highlighted during the 14th International Conference on Automated People Movers and Transit Systems to be held in Phoenix from April 21 – 24, 2013. Conductix-Wampfler is co-sponsoring this event with Phoenix Sky Harbor International Airport, Bombardier, Doppelmayr, Lea & Elliott, and several other key players in the APM market. We'll have a display booth at the trade show portion of the conference to showcase our transit solutions and to discuss opportunities with others in the APM market.
The Phoenix Sky Train is one of many APM projects on which Conductix-Wampfler has collaborated with Bombardier. Other recent (or ongoing) APM projects with Bombardier include two in Saudi Arabia: Riyadh's King Abdullah Financial District and Jeddah's King Abdulaziz International Airport as well as the Line 15 (Gold Line) in Sao Paulo, Brazil. The next time you're riding an inter-terminal train to make your connecting flight, it may be Conductix-Wampfler and Bombardier who will help you get there on time. You're welcome!