Harlan Manufacturing Day Celebration
Held in honor of National Manufacturing Day
So is manufacturing in the US "dead"? Not hardly. On October 3, more than 200 students, instructors, local officials, vendors, and the general public got a great view of manufacturing in the midlands with a tour of the Conductix-Wampfler Harlan plant. This branch of the company, formerly Insul-8 Corporation, moved from San Carlos, CA to Harlan in 1991, and has been a key employer in the area ever since.
The event, held in honor of National Manufacturing Day, was co-sponsored by Iowa Western Community College and was one of 1600 events held around the country. Manufacturing Day, created by presidential proclamation, is designed to acquaint people with manufacturing in the 21st Century and highlight its importance to the US economy. The visitors to the Harlan plant were treated to videos, a slide show, and refreshments in addition to tours conducted by company volunteers. Everyone left with a better appreciation for the fact that a world-class manufacturer operates right in their own back yard.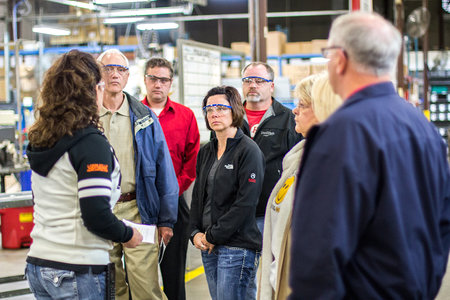 US manufacturing is in the midst of a renaissance. Productivity gains and cost advantages in our country have resulted in a significant amount of production moving back to our shores. US manufacturers, including Conductix-Wampfler, are known around world over as leading innovators.  Manufacturing companies work hard every day to promote policies that will help retain this lead highly world marketing. In the United States, nearly 12 million work directly in manufacturing, with another 5 million working in manufacturing support roles. The manufacturing sector in the US is the 10th largest economy in the world all by itself. Manufacturing helps our economy more than the actual value of the manufactured items. For every $1.00 of manufactured goods, another $1.43 is added to the economy.
At the same time, Conductix-Wampfler, and most other manufacturers, struggle to fill positions with skilled workers proficient in science, technology, engineering, and mathematics (STEM). To remain competitive, the United States must develop a skilled workforce that includes the best talent from inside and outside our country. Conductix-Wampfler is always seeking qualified engineers, machinists, welders, and fabricators. To learn about these career paths, the company offers job shadows, internships, and school-to-work programs. Conductix-Wampfler offers a full scholarship to any local high school senior willing to go into the machine tool and die field.