Conductix-Wampfler Provides Conductor Rail and Festoon for the BEAST Bridge Testing Project
When it comes to taking on important infrastructure projects, Conductix-Wampfler consistently steps up to the plate.  In 2014, Applied Research and Associates (ARA, Randolph, VT, USA) contacted Scott Gilmour (Conductix-Wampfler Northeast District Sales Manager) about powering their new "BEAST" (Bridge Evaluation and Accelerated Structural Testing) bridge wear simulation structure.
ARA was hired by the Center for Advanced Infrastructure and Transportation (CAIT) at Rutgers University to build this massive bridge surface testing device.   As usual, Conductix-Wampfler rose to the challenge!  The resulting apparatus is the world's first outdoor lab capable of simulating stresses and deterioration caused by heavy traffic and extreme environmental conditions on bridges in an accelerated environment.
The "BEAST" project involved multiple partners and contributors, including the New Jersey Department of Transportation, Rutgers School of Engineering, and ARA, and took more than three years to finish.  To complete the project, ARA needed to transfer power from the stationary supply to the moving parts of this high speed machine.  The machine was originally designed to have 93 feet of travel, a high acceleration/ deceleration of .75 g, and a top speed of 20mph.  Initially, they were looking for a cable chain solution, but due to the speeds involved, Conductix-Wampfler conductor rail was a better fit for the application. The next requirement was to supply our robust I beam system - an optimal solution, given the large cable package and the covered outdoor application.  Conductix-Wampfler provided a factory pre-assembled product which saved ARA time and created a well-organized festoon solution.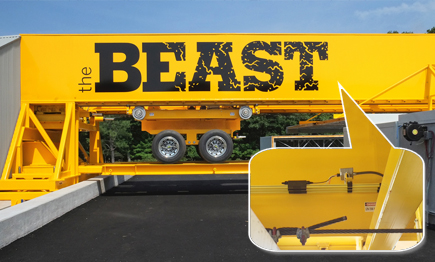 The bright yellow and white testing apparatus – the world's first accelerated bridge testing device -  is approximately 125 ft (38.1 m) long, 30 ft (9.1 m) tall, and weighs 120,000 lb (54,431 kg).  It can accommodate bridge specimens of up to 50 ft (15.24 m) long by 28 ft (8.53 m) wide.   The testing set up consists of a truck chassis look-alike device with weighted wheels sits on an elevated bridge section.  Once activated, the chassis moves back and forth on Conductix-Wampfler's I-Beam festoon and is powered by our  0812 conductor rail traveling at 20 mph (32.2 kph) to replicate heavy truck traffic.  This is the equivalent of 17,500 trucks rolling over the bridge slab in a 24 hour day, applying up to 60,000 lb (27,215 kg) of vertical force.  At the same time, four air units simulate temperature fluctuations from 0 to 104 degrees Fahrenheit thus exposing the bridge sample to extreme cold or intense heat in a very rapid cycle.  In addition, the system can also reproduce rain and harsh de-icing conditions.
The $6 million dollar bridge testing "BEAST" provides an expedited surface wear time line so that the  analysis of bridge construction techniques can occur much more quickly.  The information collected from the testing will provide state and federal transportation agencies, bridge owners, and bridge builders, with data on the durability of various bridge materials and components.  Better decisions can be made for building and maintaining long-lasting bridge structures, as well as using rehabilitation techniques that will resolve current safety issues and lengthen the life span of existing bridges.  Ultimately, this will result in major public safety improvements and billions of dollars savings in infrastructure costs.
Conductix-Wampfler is proud to be part of this one-of-a-kind, unique system which will revolutionize bridge performance.
For more information, see: