Giant Land-based Oil Rigs Become Mobile with Conductix-Wampfler Cable Reels
Motorized Reels Help Keep the Worksite Safer
In early 2014, Conductix-Wampfler USA was contracted by a systems integrator to find a less costly way to move land-based walking oil rigs. The traditional method of moving land oil rigs is to dismantle them, load them on eight semi-trailer trucks, and move them a quarter mile only to be set up again. This can cost up to a million dollars per move. To help reduce this cost, a "walking" rig was the selected design and the integrator contacted Conductix-Wampfler for assistance with the cable management part of the project.
Conductix-Wampfler (Omaha, NE) recommended a two-reel cable system for this application, given that the rigs' owner wanted to manage the control/fiber optic cable and high voltage cable separately. The control and fiber optic system features a monospiral reel set up to handle 300 feet of special composite cable consisting of 12 x 2.5mm control conductors and 12 x 62.5/125 multi-mode optical fibers. A combination control and fiber optic connector on the free end allows the cable to be disconnected when the reel reaches maximum payout. The second monospiral reel is configured to handle 300 feet of 250 MCM, high voltage cable. This heavy cable has an outside dimension of 2.5 inches and mass of 6.5 pounds per foot.
The first reels were purchased in July of 2014 and the owner is very pleased with the results. Since then, they have purchased three additional units and will continue to outfit the rest of their rigs. We are also working with the world's largest provider to the oil and gas industry on a new walking rig that will be able to clear a six foot tree. To see these eight story rigs walking is like watching something out of a Star Wars movie! All indications are that the walking rig concept will become an industry standard.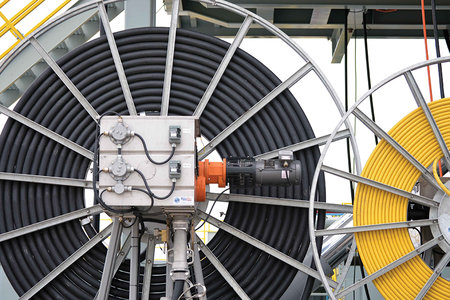 Our reel system can be supplied as a ready-to-go unit with reels mounted on a common skid. The system provides increased mobility for rigs that need to walk from well to well and features:
Permanent magnetic couple drives that utilize a standard off the shelf motor and provide smooth, constant tension on the cable with easy pay out and constant retrieval of any slack cables.
Enclosed gearing ideally suited for harsh environments. All reel gearing is enclosed in an oil bath and lubricated for a minimum of 15,000 hours of operation.
600 to 25,000 volt construction.
These rugged motorized cable reels can help keep the worksite safer by removing cable piles, and they help prevent cable damage by keeping cables out of harm's way.