Introducing Nexus NB
Nexus NB is a new and ultra-reliable way to send basic industrial communications through power conductors, even through sliding contacts such as conductor bar shoes or slip ring brushes. Using the inherent advantages of narrowband communications, Nexus NB takes the transmission of core control signals over power conductors to a new level.  Nexus NB offers:
Low latency
High-reliability, due to a high signal-to-noise ratio
No signal loss up to 500 meters
No communication errors, owing to its unique packet handshake communications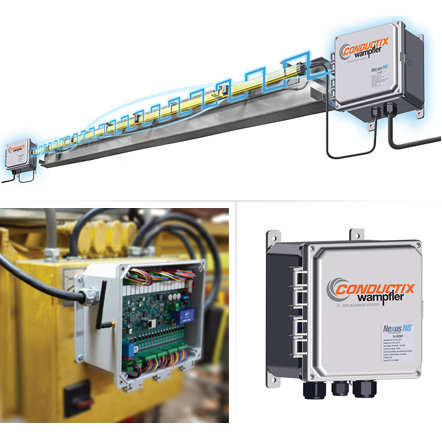 Nexus NB uses technology that allows bidirectional, packetized data transmission over power conductors and employs a digital handshake to ensure that both devices acknowledge that the packets have been successfully sent and received.
You can deploy the Nexus NB system on any new conductor installation or an existing installation. The system eliminates the need for additional signal conductors. It can replace or augment radio controls thereby reducing the demand on crowded wireless channels.  Nexus NB employs a simple one-to-one mapping scheme to make installation fast and easy.
Specifications:
Reliable and robust communication using IEEE standard 1901.2 protocol for data transmission
Bi-directional communication that sends packetized data transmission up to 500 meters over conductor bar. (Need a longer length? Contact the factory.)
Operates on equipment moving at speeds up to 5 meters/second
Maximum response time is less than 92ms
The units are designed to comply with IEC 61508 at SIL2
Includes four force-guided safety relays
Nexus NB is the ideal device to handle control signals to and from a variety of devices:
Limit Switches
Push Buttons
Alarms
Lights
Actuators
Motor Controls
Signals to Enable/Disable VFDs
Digital Inputs and Outputs
Valve Controls
Radio Signals
For more information on Nexus NB, contact our Inside Sales team at 1-800-521-4888, or email to sales.us@conductix.com