Data Transmission Systems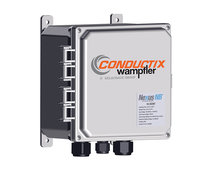 Nexus NB Powerline Communication System
Additional information
Nexus NBTM  uses robust narrowband signal technology to transmit up to 16 discrete, bidirectional, packetized signals over power conductors. The digital handshake ensures that both devices have successfully sent and received the command. Control signals are sent over phase power conductors even through sliding brush/ shoe contacts, as found on conductor bar systems or slip rings or cable reels.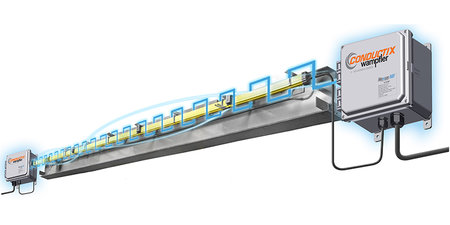 Nexus NB will adapt to new or existing conductor bar, slip ring, or cable reel installations. The system eliminates the need for multiple signal conductors, thereby reducing the size of cable reels and slip ring conductors. Nexus NB can replace or augment radio controls. Its simple one-to-one mapping scheme makes installation fast and easy.
Downloads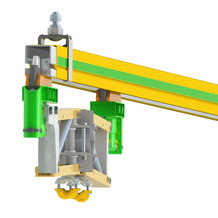 ProfiDAT®
Additional information
ProfiDAT® is a contactless data transfer solution for communication between fixed and mobile control units from Conductix-Wampfler. ProfiDAT® makes it possible to achieve reliable transfer of mixed data (video, audio and real-time control) at very high data rates using Conductix-Wampfler slotted waveguide technology. Data can be safely transferred at rates up to 100 Mbit/s with average latency of only 3ms. The unique configuration of waveguide and mobile antennas results in a system with integrated shielding. This isolation means that ProfiDAT® is license free and can safely transfer data, even in the most challenging radio environments (e.g. shipping container terminals).
ProfiDAT® is excellently suited for integration into conductor rail systems because the waveguide profile has been engineered for dual use as the protective earth (PE) conductor rail. This results in a very compact complete system because an additional PE conductor rail is not required. The ProfiDAT® data transfer system can be combined with multiple available Conductix-Wampfler conductor rail systems.
Main Applications
STS Crane (Ship-to-Shore)
RTG/E-RTGTM Crane (Rubber-Tired Gantries/ Electrified Rubber-Tired Gantries)
Process Crane
Key Features
Safe and reliable wireless communication using slotted waveguide technology
Real-time data transfer through prioritization of PROFINET data packets
PROFIsafe compatible
Solutions for expansion joints and separation points
Cost saving through dual use of ProfiDAT® as communication channel and protective earth (PE) conductor rail
Compact and fully integrable into conductor rail systems
Product data
Standard Application Data
Data rate [Mbit/s]:up to 100
Real-time capable: Yes (PROFINET)
Average latency [ms]: 3
Maximum distance (without repeater) [m]: 500
Safe communication: Yes (PROFIsafe)
Dual use as protective earth (PE): Yes
Multiple mobile units in one profile possible: Yes
Profile section length [mm]: 5.000
External dimensions (profile) [mm]: 50 x 56
Suitable for indoor and outdoor applications: Yes
Temperature range [°C]: -25 bis +50
Downloads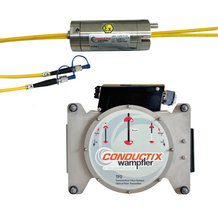 Rotary Data Transmission
Additional information
A  Fiber Optic Rotary Joint (FORJ) is a means to pass optical signals across a rotating joint.  In this way, the FORJ acts like an electrical slip ring, but with light signals. Light signals can pass through two parts that rotate relative to each other. Using Plastic Optical Fibers (POF) light is transmitted contactless over passive and independent channels. This means long life with no maintenance and without the potential problems that can affect  slip rings such as vibration, humidity, and magnetism.
Downloads