Enclosed Slip Ring Assemblies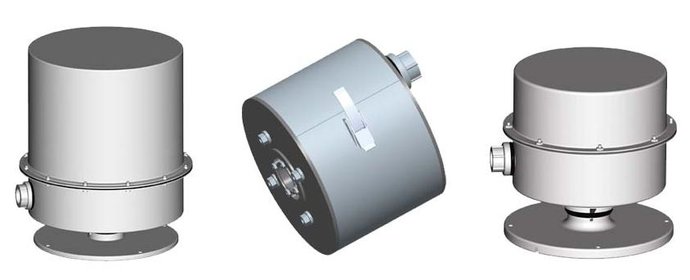 If you need to enclose your slip ring assembly, Conductix-Wampfler has several standard styles to choose from. If your slip ring is mounted in a hazarous locations, you need an explosion-proof enclosure - see  Hazardous Duty Enclosures .

To request a slip ring quotation from Conductix-Wampfler, you can:
Wrap-Around Enclosure

The NEMA 1 Wrap-Around Enclosure is available for all bore sizes. It features a rolled, brushed stainless steel panel that wraps around the body of the slip ring. It is held in place with plated snap latches. The slip ring assembly end plates ("outboard bearings") are available for incoming wire hubs. The thru-bore is open, so the unit can be slid onto a host shaft.  Common options include:
Special hub sizes or arrangements

Special shafts/flanges to match host equipment

Special drive hole locations or drive brackets

Extra gasketing for a tighter dust seal
Revolving Unit (RU)

The NEMA 4 "RU" is a painted spun steel enclosure that completely contains the slip ring assembly. It is available in 1.5", 2.5", and 3" O.D. shaft sizes. The cover is bolted to the base ("entrance ring") with a rubber gasket between.  Brush wiring enters through a 1" NPT hub mounted on the entrance ring. A shaft and shaft flange are provided; the shaft runs on a double ball bearings. Common options include:
Heater strips to reduce internal condensation

Breather drains to reduce internal condensation

Special hub sizes or arrangements

Special flanges to match host equipment
Maximum operating speed: 125 rpm (1.5" bore); higher speeds attainable with optional carriage ball bearings.

Swivel Unit (SU)

The "SU" is similar to the Revolving Unit, except that the cover has mounting straps enablinng the unit to be mounted "shaft-up". The shaft is equipped with a conduit elbow for incoming core wiring.

Special Enclosures

Conductix-Wampfler has a complete machine shop and metal fabrication shop and can design and build special enclosures. See  Custom Slip Rings and  Enclosures for examples!

Contact Conductix-Wampfller to discuss your slip ring requirements; ask for "Slip Ring Sales".