Hazardous Duty Slip Ring Assemblies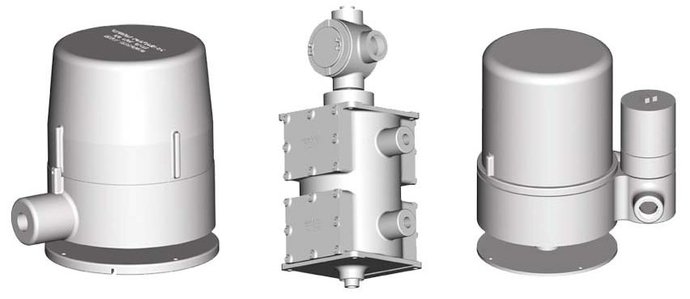 If you need an enclosure for hazardous duty locations, Conductix-Wampfler offers several enclosure styles, all built to conform to UL and NEC standards for Class I Divison I Groups C & D (Zones 1 and 2), and Class II Groups E, F, & G standards, and Class III. We can also build special enclosures built to your requirements!
To request a slip ring quotation from Conductix-Wampfler, you can:
Explosion-Proof Revolving Unit (XRU):

The "XRU" is a copper-free aluminum cast enclosure that completely contains the slip ring assembly. It is available in 1.5", 2.5", and 3" O.D. shaft sizes. The cover threads onto the base (entrance ring) with an "O" ring seal between. Incoming wiring enters through a 1" NPT hub cast into side of the entrance ring. The shaft runs on double-ball bearings. The unit can be mounted using the standard shaft provided - or Conductix can design a special mounting arrangement.

Sealing:  NEMA 4 (water and dust tight) and NEMA 9 (Explosion-Proof)

Max. Speed: 125 rpm (1.5" bore); higher speeds attainable with optional carriage ball bearings.

Explosion-Proof Swivel Unit (XSU)

The "XSU" is a rugged cast iron enclosure with painted finish that completely encloses the slip ring. Available in single and double housing configurations with 1.5" O.D. shaft. Removeable doors are provided to access internal wiring.

Explosion-Proof Swivel Unit with Air Pass

This version of the "XSU" includes a pass-through style shaft to accommodate air or fluids. An explosion-proof junction box is provided to house incoming wire leads.

Special Explosion-Proof Enclosure Options:
Heater strips to reduce internal condensation

Explosion-proof breather drain to reduce internal condensation

Special flange designs to match host equipment
Conductix-Wamplfer has a complete machine shop and metal fabrication shop. We can design and build special enclosures. See  Custom Slip Rings and Enclosures for examples!

Contact Conductix-Wampfler to discuss your hazardous-duty slip ring requirements; ask for "Slip Ring Sales".