Non-Enclosed Slip Ring Assemblies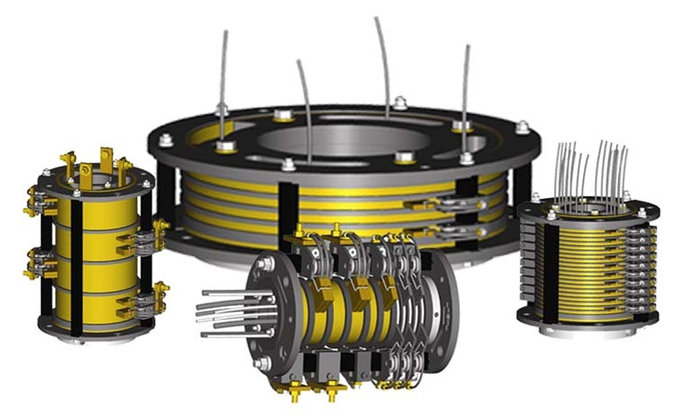 For the past 60 years Conductix-Wampfler has designed and built rugged slip ring assemblies for industry - first as Industrial Electric Reels (IER), now as part of the Conductix-Wampfler group. Conductix-Wampfler rings are at work in many critical and demanding applications all over the world. We offer standard sizes, with infinite possibilities!

To request a slip ring quotation from Conductix-Wampfler, you can:
With the modular R-Series slip ring line, you can order customized configurations built from stock components. You truly get a custom-made unit at the price and lead time of an off-the-shelf assembly!

R-Series Slip Rings Feature:
Reliable brush tracking;  Brushes articulate fore and aft and side-to-side to accurately track the ring
Long Brush Life; copper graphite and silver graphite "block-style" brushes
Maximum conductivity; Polished copper alloy and silver plated rings

Modular brushes and holders; brushes are easy to replace; holders are individually removeable without disturbing other components

Long lasting, durable construction; strong, engineered plastics are combined with brass and steel hardware

Ease of installation; Brushes pre-mounted to rigid brush carriage; no need to install the ring piece-by-piece

Max. Speed: up to 125 rpm, or 500 rpm with optional ball bearings (1.5" bore)

Conductix-Wampfler Slip Rings are specified by bore size and conductor types:

Bore size - The "bore" is the hole through the middle of the assembly that allows it to slide onto the host mounting shaft. Standard sizes:
1.5 inch (can be sleeved to a smaller size)

2.5 inch (can be factory modified to up to 3.5 inch)

4.0 inch (can be factory modified to up to 6.5 inch)

8.0 inch (can be factory modified to up to 10.5 inch)
Need a Larger Bore? We've built them at 12", 14", 18", 24" all the way to 40" diameter - see  Custom Slip Rings and  Enclosures.
Need a even larger bore? We can curve our  Conductor Bar to large diameters!
Conductor Types - Each individual ring can be specified to handle the required current and voltage. The different ring ampacities are integrated into a single assembly. We offer these basic types of conductors:
15 amps for signals and controls (available up to 4" bore); 250 volts maximum

35, 75, 110, 150 (all bore sizes); 600 volts maximum

225, 300, 400, or 600 amps for power (2.5" through 8" bores); 600 volts maximum

For higher ampacities see High Ampacity Slip Rings. For higher voltages (up to 25 KV) see  High Voltage Slip Rings. If you have a height restriction, see  Pancake-Style Slip Rings.


If your requirement appears to be outside the standard ranges, be sure to contact Conductix-Wamplfer! We have designed and built thousands of slip ring assemblies for all sorts of applications! See Custom Slip Rings and Enclosures for examples.

Contact Conductix-Wampfler to discuss your slip ring requirements:  800-521-4888, ask for "Sales".