Process Crane
Overhead Bridge Crane in a Pipe Rolling Plant
Application
Overhead Bridge Crane in a Pipe Rolling Plant

Country
Russia

City
Chelyabinsk

Representative office
Conductix-Wampfler OOO [RUS]

Operator
CHELPIPE – Vysota 239

Technical requirement[s]
Main power supply for Overhead Bridge Cranes

System course
Linear

Travel distance [Load]
4 systems, each 720 m, in total 2880 m [Program 0812, SinglePowerLine]
35 m [Program 7100, Motorized Cable Reel]
Product[s]
Conductor Rail, Program 0812, SinglePowerLine
Motorized Cable Reel, Program 7100 [transfer car]
Quantity of poles
3+PE

Current
400 A

Voltage
380 V
Relevant Products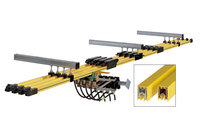 Single PowerLine 0812

Buy this product online
Additional information
Single pole conductor rail preferably for straight tracks.
Special features
Available with different rail materials, suitable for most industrial environments
High safety level due to integrated finger-safe design
Easy and exact mountig with multiple hanger clamps for 3, 4 and 5 poles
Unlimited number of poles, designed for complex systems
On-site bending with optional bending device for curves possible
Main applications
EOT cranes
People Movers
Special purpose equipment
Product data
Standard application data
Nominal Current (at 100% duty cycle) [A]: 25 | 200 | 250 | 320 | 400
Voltage Grade [V]: 690 (hand safe array 500 V)
Rail Length [mm]: 4.000 [13.1 ft]
External Dimensions (Pole) [mm]: 18,0 x 26,0 [0.71" x 1.02"]
Operating Conditions: for indoor and weather-protected outdoor applications
Track Configuration: straight / curved elements available
Downloads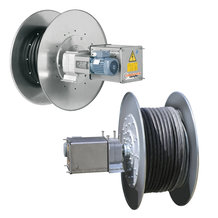 Motor Driven Reels
Compact [C] Series
Additional information
Optimal corrosion protection even in tough environments. Flanges and reel drum are manufactured from hot dip galvanized steel.
Reliable operation with standardized slip ring assembly.
Highly durable, maintenance-free and contactless torque transmission - standard motor with magnetic coupler.
Typical applications:
Gantry cranes
Overhead cranes
Grabs or magnets
Transfer cars
Waste water treatment facilities
Theater stage rigging
Product data
Specifications
Travel speed: up to 100 m/min
Winding length: 200 m max
OD of spool:
- Random wind spool: 400 mm - 1,700 mm
- Monospiral spool or 3-2-3 spool: 1,100 mm - 3,600 mm
Gearbox:
- Type W: 100 Nm - 400 Nm
- Type BNA: 300 Nm - 700 Nm
Slip ring assembly:
- Power max: 690 V – 200 A
- Control & Data max: 500V / 690 V - mA – 25 A
Temperature range: -20 °C - +60 °C
Downloads